Google Pays Out Over $1 Billion To AdSense Publishers In Q1 2007
I reported at Search Engine Roundtable about a WebmasterWorld thread that notes how Google has paid out over $1 billion to publishers for the first time.
The amount — $1.13 billion to be exact — was paid out in the first quarter of 2007. That's up from $976 million from the previous quarter. The figures come out of Google's Q1 2007 earnings.
Here is a chart illustrating how payment to publishers has grown. The red line represents the Google pay-outs to publishers, while the blue line is the revenue earned by Google: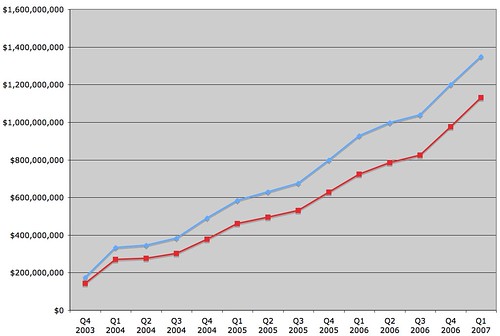 Not only did Google break the $1 billion mark, but Google is now also sharing the highest percentage of revenues with network sites than ever before. Here is a chart of that:
---